Mozart's masterpiece Don Giovanni is considered one of the greatest operas ever written. Based on the story of the promiscuous and morally vacant Don Juan, this is a brilliant mix of comedy, melodrama, and demons from hell. Sung in Italian with English surtitles, this production will take place at Cosi's Gallery II and will feature members of the Columbus Gay Men's Chorus and ProMusica Chamber Orchestra.
#DonGOC
This concert will be performed in Italian with English surtitles.
CAST
Jorell Williams
Don Giovanni
Jorell Williams is an American operatic baritone with a wide variety of experience from standard repertoire to premiere pieces. Praised for his "magnificent, rich-toned" Baritone (The New York Times), Mr. Williams begins the 2020-2021 season with the world premiere of the song cycle In Real Life written by Robert Paterson and David Cote with the American Modern Ensemble, followed by his in concert return to the Brooklyn Art Song Society. Previous seasons include Seattle Opera, New York City Opera, Opera Birmingham, On-Site Opera, Finger Lakes Opera, and Urban Arias. Mr. Williams has recorded with Wynton Marsalis, Lauryn Hill, Erykah Badu, David Lang's (Opera News top critics' choice of 2015 for Difficulty of crossing a field), and most recently Jennifer Higdon's 2017 Grammy nominated Cold Mountain with the Santa Fe Opera. He had the honor to perform with Wynton Marsalis and the Jazz at Lincoln Center Orchestra in "A Celebration of America" at the Kennedy Center's Eisenhower Theater on the occasion of the first Presidential Inauguration of Barack Obama, as well as the U.S. tour and European premiere of Marsalis' Abyssinian Mass at the Barbican during the 2012 Olympics in London.
Carl DuPont, DMA is a vocalist equally engaged in performing, teaching, and research, whom The South Florida Classical Review has celebrated for his "dramatic, dark tones." Major operatic credits include productions at The Glimmerglass Festival, Columbus Opera, Opera Carolina, First Coast Opera, Toledo Opera, Opera Saratoga, Sarasota Opera, Cedar Rapids Opera, El Palacio de Bellas Artes, Opera Company of Brooklyn, and Leipzig Opera. His world premieres include the title character in Dennis Rodman in North Korea, as well as Why Peace is Always a Good Idea at Carnegie Hall, under the baton of composer Jacqueline Hairston. In the role of Murray on the world premiere recording of Death of Webern, Fanfare Magazine noted his "lyricism that underpins every statement."DuPont has performed with many of the world's leading orchestras in performances across the United States, Europe, the Middle East, and Asia, under the batons of Riccardo Muti, Kurt Masur, and Zubin Mehta. His talents have placed him on the German small screen as Fred, der Tanzlehrer, on Unter Uns. However, the intimacy of the solo recital is his preferred métier, and his particular passion is sharing the wealth of songs by Black composers. His solo debut album of these works, entitled The Reaction was recently released on Albany Records. The American Record Guide called it "a special album that brings deserved attention to these fine composers. If you enjoy art song, this is not something to miss." He has presented a version of this recital at the Sapienza Università di Roma, Salzburger Kammermusik Konzerte, and The University of Portland among others.
DuPont is the recipient of numerous fellowships and awards from The University of Miami, Indiana University, Eastman School of Music, Classical Singer Magazine and Diverse Magazine. Previously, he served as an assistant professor and chair of the voice area at the University of North Carolina at Charlotte. There, his students won local and regional competitions and benefitted from his implementation of a multicultural guest artist series and advocacy for diverse composers in the curriculum. Recently appointed at the Peabody Institute of Johns Hopkins University, he has developed and now teaches a course on African American Art Song Composers.
This course aligns with DuPont's research in Transformative Inclusion in higher music education and care of the professional voice. His publications include "Make the Door Open: Groundbreaking African American Teachers of Singing" in Voice and Speech Review, and a co-authored article, "The Economic Impact of Vocal Attrition in Public School Teachers in Miami-Dade County" for The Laryngoscope with colleagues from the University of Miami's Miller School of Medicine. He has presented original research in conferences in Europe and North America.
Future engagements include a return to Carnegie Hall as the bass soloist in Mozart's Solemn Vespers and the title character in Mendelssohn's Elijah with Bach in Baltimore. In addition to recitals at St. Peter's University and the Peabody Institute, he will add the role of Schaunard in La Boheme with the InSeries to his repertoire and return to his favorite role opera as Leporello in Don Giovanni with Opera Columbus.
Meghan Kasanders
Donna Anna
Soprano Meghan Kasanders has been hailed by Opera News as "a wonderfully promising, rich dramatic soprano". She begins the 2019-2020 season making her Dallas Symphony debut singing the soprano solos in Schmidt's Das Buch mit sieben Siegeln, Fabio Luisi conducting, followed by the title role in Anna Bolena with Baltimore Concert Opera. Last season, Ms. Kasanders made her Carnegie Hall debut singing in Bernstein's Songfest with the Juilliard Orchestra under the direction of Marin Alsop and the role of Magda Sorel in Opera Saratoga's critically acclaimed production of The Consul. She also performed Sibelius' Luonnotar, Barbara Hannigan conducting, in Alice Tully Hall (NYC) and Donna Anna in Don Giovanni at The Juilliard School. Ms. Kasanders is a 2019 Grand Finalist in the Metropolitan Opera National Council Auditions and both the First Prize and Audience Choice Winner in the 2019 Dallas Opera Guild Vocal Competition. She has also been recognized by the Gerda Lissner Foundation, the Opera Birmingham Vocal Competition (Second Prize and Audience Choice), and the Mildred Miller International Voice Competition, where she won first prize in 2017 as the youngest competitor. Meghan's training has included past resident artist apprenticeships with International Meistersinger Akademie (Neumarkt, Germany), Opera Theatre of Saint Louis, Des Moines Metro Opera, Opera Saratoga, and Dolora Zajick's Institute for Young Dramatic Voices. Ms. Kasanders holds a Bachelor of Music degree from Simpson College, a Master of Music degree from Rice University, and an Artist Dipolma in Opera Studies from The Juilliard School, where she was the recipient of The Richard F. Gold Career Grant.
Amber R. Monroe
Donna Elvira
A native of Youngstown, Ohio, Amber R. Monroe has been recognized as "a crystalline lyric soprano and a superb singing actress." She has recently made her company and role debuts as Nedda (Pagliacci) with El Paso Opera and appeared as Countess Almaviva (Le nozze di Figaro) with Kentucky Opera. She has participated as a young artist in both The Glimmerglass Festival and the Merola Opera Program. Her professional credits include appearances as Clara in Porgy and Bess (Opera Western Reserve), the title role in Suor Angelica (Oberlin in Italy), and the title role in Harriet Tubman: When I Crossed that Line to Freedom (Cleveland Opera Theater). Ms. Monroe is a second-year Artist Diploma student at The University of Cincinnati College-Conservatory of Music (CCM), where she performed the Governess (Turn of the Screw) and was scheduled to sing First Lady (Die Zauberflöte) prior to its cancellation due to the Covid-19 pandemic.
Christopher Humbert Jr.
Commendatore
Christopher Humbert Jr. is quickly establishing himself as an eccentric artist within the realms of Opera and Musical Theatre. Christopher won first place in Dayton Opera Guild's Tri-State Vocal Competition, multiple Nation Association of Teachers of Singing competitions, and has been a recipient of multiple collegiate grants and scholarships. Recently, he was selected as one of the 32 Emerging Artists with Seagle Music Colony in Schroon Lake, NY for their summer 2019 season, in which he as seen as Bartolo (Le Nozze di Figaro) and Jud Fry (Oklahoma). Though a native of Akron, OH, Christopher has also been seen in multiple theatrical productions within the city of Columbus including, Petruchio (Kiss Me, Kate), Aeneas (Dido and Aeneas), Count Carl-Magnus (A Little Night Music), and Pooh-Bah (The Mikado) with Capital University where he obtained a Bachelor's of Music Degree in Vocal Performance. Besides staged performances, he has also performed as a bass soloist for multiple concert works with First Congregational Church in downtown Columbus including Mozart's Requiem, and Bach's St. John's Passion. Christopher is making his Opera Columbus debut as The Notary in Gianni Schicchi, and Ambrogio in The Barber of Seville for the 2019-2020 season.
Victor Cardamone
Don Ottavio
Praised for his bright voice and perfect tone quality, Victor Cardamone has garnered much attention and critical acclaim over the last few years, and continues to do so. His "sweet tenor" is equally known for its "power and ringing high notes." In response to his diverse acting skillset, he has been described as "a perfect foil," "hilarious," "ideal in the romantic moments," and "the stuff of nightmares." Victor earned his Bachelor of Music in Music Education degree from Youngstown State University, receiving a double major in applied voice and French horn. He took additional coursework at Ball State University, where he served as a graduate teaching assistant in the voice department, before transferring to the University of Cincinnati, College-Conservatory of Music and earning his Master of Music in Vocal Performance degree. He is currently pursuing the Artist Diploma in Opera Studies at CCM.
Victor has bowed with Opera Western Reserve, the Warren Philharmonic, New Castle Lyric Opera, Asheville Lyric Opera, Brevard Music Center, Cincinnati Opera, the Charleston Symphony Orchestra (Charleston, South Carolina), Wolf Trap Opera, and the Cincinnati Symphony Orchestra. He has portrayed both leading and supporting roles, performed in several scenes programs and for various community outreach events, and sung in his fair share of choruses. As an advocate and champion of new music, he has lent his voice to a number of significant projects. He was involved with Westminster College's (New Wilmington, Pennsylvania) production of Katharina von Bora, which was one of only twenty-six operas premiered in 2015 worldwide. As a member of Opera Fusion: New Works, he was part of the first workshops/studio recordings for Eurydice (co-sponsored by The Metropolitan Opera and Los Angeles Opera) and Blind Injustice.
Victor is a two-time Central Region Finalist at the Metropolitan Opera National Council Auditions, and was sole recipient of the Encouragement Award in 2017. He was a finalist last year for Washington National Opera's Cafritz Resident Artist Program. This upcoming summer, he will be returning to San Francisco Opera's Merolini Apprentice Artist Program. When not singing, he can be found cuddling his favorite feline, a black cat named Bill.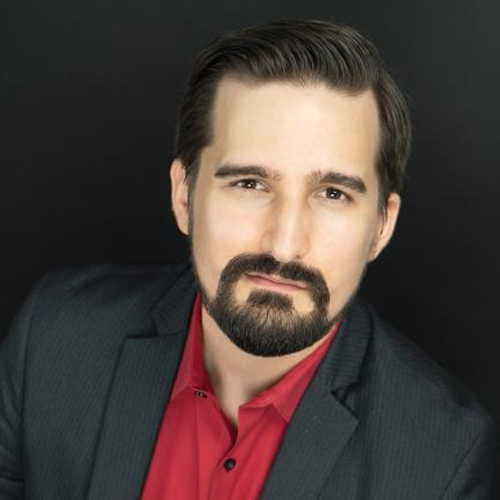 Venezuelan bass-baritone Miguel Pedroza recently graduated with a Master's degree in Vocal Performance from the Cincinnati College-Conservatory of Music, studying under professor William McGraw and coaches Donna Loewy, Kathleen Kelly, and Marie-France Lefebvre. His engagements at the conservatory included Mozart's Die Zauberflöte (Sarastro), Mozart's Le Nozze di Figaro (Figaro), and Cavalli's La Calisto (Sylvano). Prior to his time at the conservatory, Miguel received a Bachelor's in Vocal Performance from the University of Houston. Miguel has been contracted with Cincinnati May Festival, Opera in the Ozarks, and Opera in the Heights, with appearances in Milhaud's Le Pauvre Matelot (Son Beau-Père), Cimarosa's Il Matrimonio Segreto (Geronimo), and Bizet's Carmen (Zuniga). He has performed as a chorus member with Cincinnati Opera and Houston Grand Opera and as a soloist in concerts across the US, including Bach's Magnificat and St. Matthew Passion, Schubert's Mass in G minor, and Mozart's Spatzenmesse.
Aryssa Leigh Burrs
Zerlina
Aryssa Leigh Burrs, mezzo-soprano, originally hails from the Philadelphia area and is thrilled to be a Resident Artist with Opera Columbus-Capitol University this year. Ms. Burrs recently completed a Master of Music in Voice and Opera degree from Northwestern University, studying under Nancy Gustafson and Sunny Joy Langton. In the Summer 2019 season, Ms. Burrs performed with the Grant Park Music Festival Chorus and appeared as Woman in Sleeve's in Elvis Costello's Juliet Letters with UrbanArias. Ms. Burrs' additional role credits include Orlofsky (Die Fledermaus), Captain (Dog Days), Ursule (Béatrice et Bénédict), Baba the Turk (The Rake's Progress) with NU Opera Theatre, and Mame Dennis (Mame), Nireno (Giulio Cesare), and Third Spirit (Die Zauberflöte) as an emerging artist with Seagle Music Colony. Notable solo performances include Am I Born (David T. Little), Terra Nostra (Stacy Garrop), and the incredible experience as soloist with Thorgy and the Thorchestra with the Charlotte Symphony. Ms. Burrs is a 2017 Bachelor of Music/Bachelor of Music Education graduate of The University of Maryland-College Park, where she appeared as Kate (Lippa's The Wild Party). Postponed from Summer 2020 to Summer 2021 due to Covid-19, Ms. Burrs can be seen as a Bonfils-Stanton Foundation Studio Artist with Central City Opera.
CREATIVE
Wolfgang Amadeus Mozart
Composer
Wolfgang Amadeus Mozart[a] (27 January 1756 – 5 December 1791), baptised as Johannes Chrysostomus Wolfgangus Theophilus Mozart,[b] was a prolific and influential composer of the Classical period.
Born in Salzburg, in the Holy Roman Empire, Mozart showed prodigious ability from his earliest childhood. Already competent on keyboard and violin, he composed from the age of five and performed before European royalty. At 17, Mozart was engaged as a musician at the Salzburg court but grew restless and travelled in search of a better position. While visiting Vienna in 1781, he was dismissed from his Salzburg position. He chose to stay in Vienna, where he achieved fame but little financial security. During his final years in Vienna, he composed many of his best-known symphonies, concertos, and operas, and portions of the Requiem, which was largely unfinished at the time of his early death at the age of 35. The circumstances of his death have been much mythologized.
He composed more than 600 works, many of which are acknowledged as pinnacles of symphonic, concertante, chamber, operatic, and choral music. He is considered among the greatest classical composers of all time,[1][2] and his influence on Western music is profound. Ludwig van Beethoven composed his early works in the shadow of Mozart, and Joseph Haydn wrote: "posterity will not see such a talent again in 100 years".[3]
Lorenzo Da Ponte
Librettist
Praised by the Cincinnati Enquirer as "a leader of exceptional musical gifts, who has a clear technique on the podium and an impressive rapport with audiences," Kelly Kuo brings a dynamic versatility and nuance to a diverse repertoire, which includes over 80 operas and an expansive symphonic repertoire. Currently Artistic Director of Oregon Mozart Players, recent engagements include productions with Lyric Opera of Chicago, Seattle Opera, Cincinnati Opera, Kentucky Opera, Madison Opera, Tulsa Opera, Indianapolis Opera, Brevard Music Center, and Anchorage Opera and concerts with the Memphis Symphony Orchestra, Lexington Philharmonic, Malta Philharmonic Orchestra, Reno Chamber Orchestra, and Ballet Fantastique.
Hailed "a rising star of stage directing [whose] approach to directing refreshes hope for the future of opera," Eve Summer is a director, producer, and choreographer. She has been described as having "a gift for translating classic symbolism into familiar detail with just enough flippancy to bring out the fun of the opera without skewing the emotional equation." Selected recent directing credits include The Little Prince at Tulsa Opera, Albert Herring at Curtis Opera Theatre, Trouble in Tahiti at the Glimmerglass Festival, The Mikado at Opera Grand Rapids, The Pearl Fishers at Opera Tampa and Opera in Williamsburg, The Tales of Hoffmann at Opera Orlando, Xerxes at Connecticut Early Music Festival, John Musto's Later the Same Evening at Boston University, Aida and Lucia di Lammermoor at Boheme Opera New Jersey, Suor Angelica at the Boston Symphony Orchestra, The Magic Flute at Opera in Williamsburg and Hartt Opera Theatre, Così fan tutte at Opera Grand Rapids, Connecticut Lyric Opera, and Commonwealth Opera, Bluebeard's Castle at Mid-Ohio Opera, Le nozze di Figaro at dell'Arte Opera Ensemble, Carmen at MassOpera, and the world premiere of Larry Bell's opera Holy Ghosts at the Berklee Performance Center.
Ms. Summer's work has been called "eye-poppingly contemporary," "a riveting, glorious production from beginning to end," and "can only be described as brilliant." Critics raved that her production of Xerxes was "a delight, and a testament to Summer's gift for banishing stodginess from an art form too often seen as fossilized and elitist". Critics hailed her recent Albert Herring at Curtis as "exuberant and delightful," "a drawing room tour de force," and declared "It is hard to imagine how the performance could have been improved. It was sensational."
A former professional ballet dancer and choreographer, Ms. Summer's choreography credits include a commission to choreograph a new ballet, Jeanne's Fantasy, by composer Mark Warhol for the premiere with Contrapose Dance and Fort Point Theatre Channel, Elektra at Des Moines Metro Opera, Falstaff at Opera Colorado, and Don Giovanni at Boston Opera Collaborative. She recently collaborated with renowned choreographer Karole Armitage on the critically acclaimed American premiere of Philip Glass' Opera-Ballet The Witches of Venice at Opera Saratoga. Ms. Summer has served as staff and assistant director and choreographer at many opera companies including Boston Lyric Opera, The Glimmerglass Festival, Des Moines Metro Opera, Opera Colorado, Tulsa Opera, Opera Saratoga, and Opera Boston.
WWW.MARVELARTSMANAGEMENT.COM
MARVELARTS@AOL.COM * 646.209.5200
Tláloc Lopez-Watermann
Lighting Design & Projection
Tláloc is very happy to be returning to Columbus to design Twisted 3. His designs have been seen at Ballet Virginia International, Lakes area Festival, Pittsburg Opera, North Carolina Opera, Utah Opera, Opera Delaware, Opera On the James, Opera Naples, Castleton Festival, Brevard Music Center, Toledo Opera, Utah Festival Opera, Opera Roanoke, Shreveport Opera, Crested Butte Music Festival among many others. Some of these include: The long Walk, Hydrogen Jukebox, Baby Doe, Sondheim on Sondheim, Cenerentola, Carmen, Street Scene, Zauberflöte, Amadeus, 9 to 5, Midsummer Night's Dream, Sweeney Todd, South Pacific, Romeo et Juliet, Scalia/Ginsburg (world premier) Ulysses, Pirates of Penzance, Così fan Tutte, Bovinus Rex (world premier),  Man of La Mancha, Salome, La Bohème, The Marriage of Figaro, Madame Butterfly, The Crucible, Eugene Onegin, Il Trovatore, La Traviata, Falstaff, The Magic Flute, Tosca, Don Giovanni,  among many others. He has MFA in Design from NYU/Tisch.
Danielle Ranno
Stage Manager
Danielle has worked as a freelance stage manager in opera, theatre, dance  and special events for the last decade. Recent credits include La Bohème with More Than Musical, Tri-Cities Opera, Opera Omaha and Opera Columbus,  Bernadette's Cozy Book Nook (World Premiere with Fort Worth Opera), Zoom Speed Dating Tonight! (NYU & World Premiere with Brevard Music Center), Miranda: A Steampunk VR Experience (World Premiere with Tri-Cities Opera & Opera Omaha), Kanye West's Mary at Lincoln Center and Pergolesi: Stabat Mater with Death of a Classic in the catacombs at Green-Wood Cemetery in Brooklyn, NY. Other companies include: The Maltz Jupiter Theatre, Gulfshore Playhouse, TheatreZone, The Mother Line Story Project, On Site Opera,  International Summer Opera Festival of Morelia, Lakes Area Music Festival, Brevard Music Center, Opera Grand Rapids, The Castleton Festival, Opera Naples, and Gulfshore Opera. Danielle received her MFA from Mason Gross School of the Arts at  Rutgers University. She is a proud member of The Actors Equity Association and American Guild of Musical Artists.
---
JORELL WILLIAMS AS DON GIOVANNI
By Dahlia Katz Photography
JORELL WILLIAMS AS DON GIOVANNI
By Dahlia Katz Photography
JORELL WILLIAMS AS DON GIOVANNI
By Dahlia Katz Photography
---
MORE PHOTOS
By Terry Gilliam
By Terry Gilliam
By Terry Gilliam
By Terry Gilliam
By Terry Gilliam
By Terry Gilliam
By Terry Gilliam
By Terry Gilliam
---
Exclusive Hotel Partner: